Accu​Battery is a battery life monitor on steroids, helps you get longer life out of your battery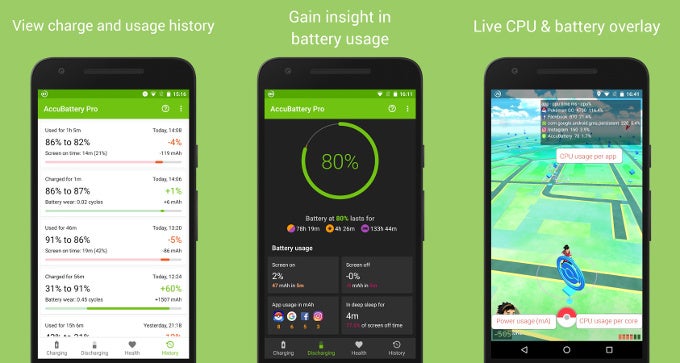 Battery life is probably the most common concern for smartphone users: some are finding it hard to get through a full day on a single charge, others find that after a year or so of use, their battery drains much faster than before, and the issues just keep lining up.
AccuBattery is a relatively new battery life monitor for Android devices (it supports the latest Samsung Galaxy S7s, Google Pixels, and so on) that focuses on accurate battery stats, but also on a research-based suggestion to avoid fully charging your battery.
Avoid charging your phone fully to increase long-term battery health
Full charges usually put extra strain on the battery and are likely to result in quicker depletion of its capacity. We have seen Sony do something similar to prolong battery longevity on its latest
Xperia XZ
and
Xperia X Compact
: it automatically pauses the charge of the phone to avoid the stressful charging and trickle charging at night.
AccuBattery suggests that you actually charge your battery to 80% and comes with clever tools to let you know when you've reached that level, so that you can unplug. This way, you can get the full 500 cycles out of your battery, until you start to see a noticeable drop in battery life.
But it's also about the stats: screen-on time, averages, and expectations, AccuBattery is a comprehensive battery monitor that we recommend you take a look at right below.