AT&T's Alcatel Ideal announced for just $50 to boot
6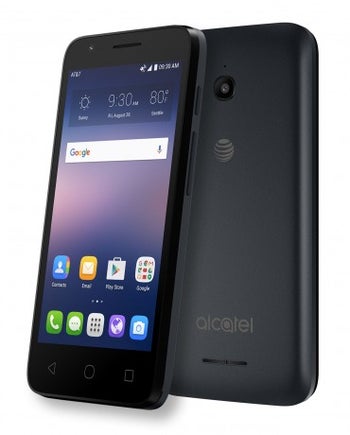 Although they may not be the most recognizable brand on the market, Alcatel has certainly been trying to make a name for themselves over the past year. The company's Idol 3 came out back in June of 2015, and was undeniably one of the year's most popular options for folks looking for a solid experience while staying on a budget. Alcatel followed that up with this year's Idol 4S, offering a handset with improved specs, a free VR headset, and a price tag of just $399 unlocked.
The sub $400 price range is one that's gained quite a bit of popularity over the years in the smartphone world, and while that's definitely more affordable than options that cost an upwards of $700, there's still a market for phones that are even more affordable. We've seen phones like ZTE's ZMAX Pro that come in for a price tag of $100, but what if we wanted to go even cheaper than that? Alcatel's aware that there's a demand for ultra-affordable smartphone options, and has announced the Alcatel Ideal as a result.
If the Ideal looks familiar to you, that's because the phone is actually a re-branding of Boost and Virgin Mobile's Alcatel Dawn. And, just like the Dawn, the Ideal features the same 4.5-inch display with a resolution of just 480 x 854. While that might be considerably lower than the Quad HD standards we've been seeing on many other handsets this year, the smaller screen sizes means that the Ideal still has a respectable amount of sharpness and clarity. And, although the 1.1G GHz quad-core processor and 1GB of RAM won't be shattering any world records, it should be fine for simple tasks, such as texting, light web browsing, and checking emails throughout the day.
The phone packs in support for AT&T's LTE network, and even boasts a microSD expansion slot and 1,780 mAh battery to keep you going throughout the day. While all of these specs might not be the most attractive ones we've ever seen, this is a phone that's being marketed towards those who don't necessarily want to throw down over $100 for a new phone, but do want to get more functionality than what they currently have with their flip-phone.
The Alcatel Ideal will ship with Android 5.1 Lollipop, and is currently available through AT&T's GoPhone program for just $50. Additionally, the phone is also launching on Cricket as the Alcatel Streak. Interestingly though, the Streak will run Android 6.0 Marshmallow and cost just $30 with activation on Cricket's network.