AT&T's 3G MicroCell on the verge of going live nationally?
This article contains unofficial information.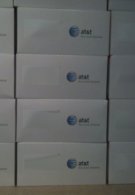 Just about a month ago, we
reported
how AT&T was in the pipe line of rolling their 3G MicroCell on a nationwide scale. Now many of BGR's AT&T contacts are reporting that that several stores around the country have begun receiving shipments of the 3G MicroCell that ultimately points to the notion that AT&T is for real in getting this ready across the country. Initially offered in select test markets to see what kind of impact it could play in the market, AT&T has been gradually extending it to other markets over the last couple of months. In retrospect, it is going to be interesting to see if AT&T decides to aggressively go after its price point now that its moving to the next level. Just think about how AT&T's network could undeniably be altered overnight if they were able to somehow make it an extremely affordable solution so that most of their customers can gobble one up – which would easily solve some patchy areas across the country where coverage is minimal.
source:
BGR