AT&T unveils 4.3-inch Samsung Focus S as part of its Windows Phone Mango lineup
30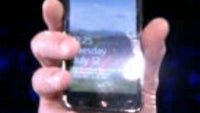 AT&T's has just unveiled its Windows Phone Mango lineup consisting of three new handsets and the first in AT&T's list is the
ultra thin 4.3-inch Samsung Focus S
, which builds on the original WP-running Samsung Focus. The handset uses Super AMOLED Plus technology for its display, which means punchier colors and deeper blacks.
The Samsung Focus S strips much of the bulk of the original Focus as it comes with a thin 0.34-inch (8.55mm) body, just
a hair thicker than the Galaxy S II
's .33" profile. Under the hood, a 1.4GHz processor runs the Mango goodness and if it turns out to be a dual-core one, the Focus S might well turn out to be a remake of the Galaxy S II, stuffed with Mango. An 8-megapixel camera on the back will add appeal to the Focus S, while up front it comes with a 1.3-megapixel snapper, perfect for video conferencing. Just like the rest of AT&T's Mango lineup, the handset comes with 4G HSPA+ connectivity.
Interestingly, AT&T also mentions that the original Samsung Focus S is the best selling Windows Phone handset stateside up until now.
Update:
There are no details yet about the exact price and we're still waiting for the press shots to appear, but in the meantime, we went down memory lane back to July when Microsoft unveiled what looked like a
Galaxy S II running Mango
(pictured above), which might have turned out to be the Samsung Focus S. We also know that the Focus S is arriving this fall, plus you already know the specs, so feel free to share your initial impressions in the comments below.