AT&T to introduce new equipment installment option on May 28: AT&T Next with Down Payment
20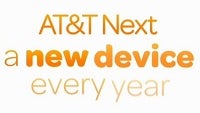 As AT&T's retail partners prepare to offer AT&T Next exclusively
in lieu of two-year contracts
beginning June 1st, the carrier is going to begin expanding the options with the AT&T Next program itself on May 28th.
One of the guidelines for AT&T sales reps to offer AT&T Next to customers was a positive credit assessment. Existing customers or prospective new customers that were deemed higher risk would be offered two-year contract options only.
Now that AT&T is making moves to eventually put two-year service agreements in the dust bin, it needs to have options for people who may not qualify for the zero-down AT&T Next program. Taking part of another page out of T-Mobile's playbook, AT&T will offer a down payment option, AT&T Next 12 with Down Payment.
AT&T Next 12 with Down Payment enables customers to upgrade their equipment every year, like the traditional Next 12, but unlike Next 12, there is a 30% down payment (based on the retail price of the device), and the remaining installment payments are divided into 28 equal payments.
So, if you have your eyes on a shiny new 32GB
Samsung Galaxy S6 edge
, a down payment against the $814.99 price would be $244.50, leaving $570.50 to be paid in 28 equal installments of $20.37. After 12 months have passed, and upgrade eligibility kicks in, $489 (about 60% of the device's retail cost) has been paid.
Customers that are eligible for traditional Next 12, Next 18, and Next 24 options can also opt for Next 12 with Down Payment if they see that as the best match for them. With the expanded AT&T Next program, the carrier is increasing the line limit for AT&T Next, up to 15 total lines.
AT&T Next with Down Payment will be available at company-owned retail stores and select authorized retailers. One of our trusty readers sent us a screen shot from AT&T's internal sales and support page which outlines the details of the new offering available on May 28th.