AT&T tells its employees there will no authorized vacations in June
This article contains unofficial information.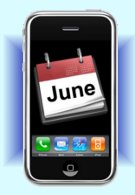 All hands will obviously be on deck over at AT&T whenever Apple decides to out its next generation iPhone to the masses. BGR is hearing from their multiple AT&T contacts that the wireless carrier has blocked off employees from asking for a vacation in June – which is now becoming all too real that the the fourth generation iPhone will see a release some time then. There are very few handsets that can be accompanied with a large following that'll force to make AT&T focus their attention solely on a smooth launch. Just like what we've all witnessed in prior iPhone launches with AT&T, employees will have to look at other months to get in their summer vacation because June is already blacked out and reserved for what is expected to be for nothing but the iPhone. The interesting part about all of this is that we may all get treated to an earlier launch that was originally expected to happen in July.
source:
BGR