AT&T starting Mango updates on Sept. 27th
10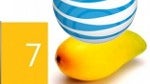 We heard yesterday
straight from Microsoft
that the Windows Phone Mango update will be hitting US carriers in the next one to two weeks, and now we're getting details on the rollout planned by AT&T. The Mango update will start for AT&T users on September 27th, but unfortunately it's not all good news, especially if you're a Samsung Focus or HTC HD7S user.
If you're an AT&T customer using either the
HTC Surround
or
LG Quantum
, the update will be made available for you on September 27th. If you're an
HTC HD7S
user, you'll have to wait until early to mid October for your update. And, if you're a
Samsung Focus
user, things get a bit tricky, although you may already be used to that given the mess that was the
NoDo update
.
If you have a Samsung Focus with hardware revision 1.3, you're in luck and you'll get the Mango update on the 27th. However, if you're a Focus user with hardware revision 1.4, you'll have to wait until the end of October at the earliest to get your update.
Of course, once the day comes, the update itself should be pretty easy. All you have to do is make sure you have the newest version of the Zune software, and plug in your phone. Until then, stay strong.
Recommended Stories