AT&T is testing out the NoDo update for Samsung Focus v1.4 handsets
3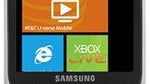 By now, the majority of Windows Phone 7 handset owners out there are absorbing all the new features and functionality that come along with the
NoDo update
. Surprisingly enough, there are some
Samsung Focus smartphones
out there still waiting for the update to arrive – and it's indeed becoming one grueling wait for owners!
Well, it seems like the update is going to be available very soon because AT&T is currently testing updates for v1.4 versions of the Samsung Focus. Actually, some people might not know about it, but there are two versions of the Samsung Focus – with v.14 handsets offering
different memory modules
. In fact, it's the main reason why it's taking an exorbitant amount of time to get this update available. Come to think of it, Microsoft started rolling out the NoDo update back in late March, and v1.4 Samsung Focus owners are still waiting for it to arrive.
At this point, there's no arguing that the process is indeed one challenge to all parties, but we're certain that handset owners will be nonetheless glad to see it arrive – even if it's more than 4 months in the making.
source:
Windows Team Blog
via
WP Central
Recommended Stories