AT&T sells an HTC One X early to one lucky customer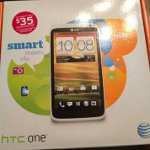 Sometimes, we just have to wonder whether if it's the store or customer. In any event, one lucky AT&T customer somehow managed to swindle their way in obtaining a not-yet-released
HTC One X
from an AT&T store.
Scheduled to start rolling out nationwide on
May 6th
, this one obvious lucky AT&T customer is now in possession of something that's arguably the most highly anticipated Android powered smartphone bound for the carrier. Specifically, they managed to convince the unspecified store to sell them the handset early – and at the expected 2-year contract price of $199 too!
Needless to say, it's anyone's guess as to how something like this can happen, but heck, that AT&T customer will surely be the talk of the town as they have first dibs in showing off the killer smartphone. Maybe the employee(s) wasn't aware about the handset's release? Or maybe the customer somehow used some magical talking skills to get their way? Nevertheless, there's someone out there that has a head start.
As for the rest of us who are drooling for the opportunity to pick up this handset, at least the wait won't be that much longer. Therefore, you'd better circle that date and start making plans if you're adamant about picking up this beauty of a smartphone.
source:
Engadget