AT&T downgraded by JP Morgan following decision to abandon T-Mobile deal
1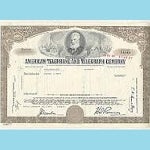 JP Morgan analyst Philip Cusick was forced to suspend his coverage of
AT&T
while JP Morgan advised AT&T on the latter's bid for
T-Mobile
. Now that
AT&T has pulled out of the deal
, Cusick was allowed to resume disseminating his opinion on AT&T's common stock. The analyst did so this morning, telling clients that he was putting
a "Neutral" rating on the equity
of the telecommunications giant. This is a downgrade from the Overweight rating that Cusick had on AT&T prior to the suspension of his coverage. At the same time, the analyst lowered his target on the stock to $31 from $33. As of Tuesday afternoon, AT&T was up 1.4% on the day to $29.13.
Cusick told clients that the mobile carrier industry
still needs to consolidate
or else "
companies like Sprint, Leap and MetroPCS could struggle
." He added that a "
re-invigorated T-Mobile USA could be a consolidator over time or a driver of price competition and eroding cash flow."
He also sees AT&T buying back $4 billion of its shares to keep the company's debt/equity ratio constant next year
.
The analyst told clients that he sees AT&T's profit margins under pressure from smartphones, specifically the Apple iPhone. High subsidies for new phones are cutting into AT&T's profit margins
"
Other forecasts made by Cusick include AT&T purchasing more spectrum in the near-term from MetroPCS and Leap Wireless, and in the long term from Dish Networks and Clearwire. The carrier is seeking government approval to
close a previous deal to buy spectrum from Qualcomm
and last night urged the government to allow the deal to be completed. T-Mobile, according to the analyst, is having problems without having the Apple iPhone in its lineup. Besides
a possible partnership with Dish Networks
, which we previously reported on, adding 4G service from LightSquared or Clearwire is a possibility. He sees the nation's fourth largest carrier
getting aggressive
in both pre-paid and post-paid offerings.
source:
Forbes