AT&T VP says the telephone network is obsolete, pushes for "All-IP telco", no regulation
9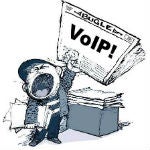 We've said it before and we'll say it again. The dream is to ditch the traditional telephone network and simply have a data pipe coming into our smartphones, and it looks like that's the aim of AT&T as well. AT&T's federal regulatory division VP, Hank Hultquist, even did a talk on the subject at CES, saying that the telephone network is obsolete, and he wants to push towards an "all-IP telco".
AT&T actually petitioned the FCC a couple months ago to make a plan for the inevitable time when the traditional telephone networks have to be retired, because the market is moving towards all-IP telcos. Speaking on the matter yesterday, Hultquist said:
This telephone network we've grown up with is now an obsolete platform, or at least a rapidly obsolescing platform. It will not be sustainable for the indefinite future. Nobody's making this network technology anymore. It's become more and more difficult to find spare parts for it. And it's becoming more and more difficult to find trained technicians and engineers to work on it.
The expectation internally at AT&T is that
the full retirement of the traditional telephone networks could happen as soon as 2018
. Hultquist made some very good points about the limitations of traditional networks, especially in sound fidelity, saying that "we're still using the same frequency response, 300 to 3300Hz" that we were 80 years ago. HD voice is starting to make a push, but that's still a big issue, given that human hearing has range up to 20,000Hz, and according to an intrepid reader, the voice has a range about twice as wide as our phones can handle at about 7000Hz. Phone calls may sound good enough, but they could sound far better.
Of course, AT&T's motives aren't about giving customers better products.
The real motivation to move to an all-IP telco is in the expectation that such a change would remove the FCC regulations on carriers
. In the petition to the FCC, AT&T said of the regulatory environment:
AT&T believes that this regulatory experiment will show that conventional public-utility style regulation is no longer necessary or appropriate in the emerging all-IP ecosystem.
The carrier went on to say that "monopoly-era regulatory obligations" aren't justified in the competitive marketplace known as the Internet.
The big trouble with that statement is that it confuses the competitive marketplace known as the Internet, with the non-competitive marketplace known as Internet Service Providers
. Moving to all-IP telcos won't mean a boon in competition if rural areas can still only choose Verizon or AT&T for service.
We're all for the move to all-IP telcos, but carriers still need regulations, because the USA is a large country with some very spread out areas, and those areas aren't always rife with choice that you see in metropolitan areas. Making everything run on a data pipe doesn't change that, but it will make for some very interesting battles in the years to come.