AT&T Labs event showcased WATSON technology, haptics steering wheel, shadow puppets, and more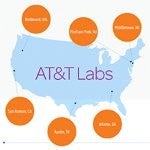 Sometimes, we get lost in all the hype surround some of today's top-shelf smartphones, but as much as we drool over them all, we still can't forget some of the other stuff working behind the scenes. Specifically, we're talking about software technology that enables some of our favorite gadgets to work independently, and even interact with a variety of peripherals – all of which, combine together to help us in our daily lives.
Very recently, we were given the opportunity of attending an
AT&T Labs event
held in the Big Apple last week. Rather than finding people showing off super spec'd devices, we were entertained by a variety of software technologies – with some being more complete than others. In fact, some of the stuff being demonstrated at the event are still in the early stages, but it simply goes to show the kind of innovation we'll be seeing in the future.
Starting things off, the AT&T Labs event was introduced by
AT&T CTO Krish Prabhu
, who lightly goes into some of the innovations and technologies being shown off. If you watch some of the videos that we recorded below, you'll be able to get a sneak peek at what to expect.
Some of the highlights include
AT&T's WATSON Speech Technologies
, which is found incorporated with a maps application. Rather than typing things manually, you can essentially speak things – thus, reducing your physical interaction with the device. Furthermore, we see how search results can be further defined by selecting specific sections or routes within the maps application. Honestly, most of the developers tout WATSON's
supreme accuracy
in comprehending voices over the competition.
Another cool demonstration was one with this
haptics steering wheel
, which is still in the early stages of development. At its core, the haptics-enhanced steering wheel works in conjunction with mobile phones and navigational tools to reduce distraction on the road. For example, we're able to feel the steering wheel vibrating in a counter-clock
motion
to indicate that a left turn is coming up. Furthermore, the vibrations build up over time as we approach a specific turn.
Lastly, we checked out this demonstration called "
Shadow Puppets
." Using a pico projector connected to a smartphone, we're shown how users can interact with the projection to navigate through a maps app. From panning the map, to making a selection, everything is initiated according to the shadows being casted on the projection. Although it's not quite as responsive as using a touchscreen (yet), we hope to see it enhanced to offer a subtle and seamless experience.