ASUS video hints of a possible dual booting Windows/Android tablet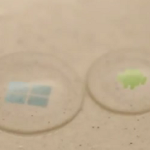 A few days ago,
ASUS released a video that teased an upcoming tablet
that seems to be an addition to its Transformer line. The Transformer tablets can dock into a QWERTY keyboard and the video invited the viewer to join ASUS as it announces
"the truly incredible next transformations".
The manufacturer's next video was released on Thursday in
advance of an announcement set for June 4th at Computex
. Considering the message of the new video, that announcement could be very interesting indeed.
The video shows a drop of water that splits into two. One has the Windows Phone logo inside the drop while the other houses the Android logo. The tag line is "All-in-one" is no longer in one and the entire presentation suggests a
dual booting tablet that can open either the Windows or the Android platform
depending on which one you choose. We obviously will know more about this on June 4th, so stay tuned.
source:
YouTube
via
Phandroid