ASUS announces the Tranformer AiO, PC and tablet runs Windows 8 and Android
16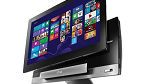 Been looking for a desktop you can take with you and use as an efficient Android tablet? The Transformer AiO tablet covers all the bases.
This is an all-in-one that is really more-than-one. Fully integrated, you are presented with a powerful desktop PC, running Windows 8, Intel Core CPU, a bunch of memory and a minimum 1TB of storage. As a tablet, you can keep running Windows 8 in remote desktop mode or you can run Android Jelly Bean on the device with a quad-core NVIDIA Tegra 3 processor.
When we are done outlining the specifications and price, you can see the potential the Tranformer AiO has to be a real hit. Obviously as a PC it will handle all the day-to-day tasks you throw at it. The PC Station is the desktop. The specifications start with an Intel Core i5 processor (upgradable to an i7), 8GB of RAM,
1TB of storage
(upgradable),
four USB 3.0 ports
, 1 USB 2.0 port, HDMI-out, 3-in-1 memory card slot, DVD drive, Bluetooth 4.0 (which the mouse and keyboard use), Wi-Fi in all the flavors and an Ethernet port.
With the HDMI port, you can plug in a second monitor, and then run Windows on that display while the main panel runs Android. The display is an HD LED-backlit unit which ASUS claim will offer 178-degree viewing angles. Switching between Android and Windows is accomplished with a simple press of a button.
The display detaches and it becomes the tablet of course, with the aforementioned quad-core Tegra 3 processor, 2GB of RAM and 32GB of storage (with microSD support). The screen itself is an
HD 1920x1080 LED backlit
panel. The only caveat (as far as tablets go) is that it is an
18.4-inch display.
That's a big tablet. There is an easy to use handle on the back, as well as a kickstand to prop it up while it is in use. The lone camera is a front facing 1MP deal which will work just fine. We do not see anyone heaving the tablet around to try and get a quick picture.
For such a large tablet, the dimensions are not completely unworkable, 11.57 inches tall, 18.34 inches wide and 0.7 inches thick.
It does weigh 5.3 pounds
though, so it is a good thing that it has a kickstand.
ASUS will have the Transformer available early in the second quarter this year, with some reports indicating April 12th as a launch date. Pricing starts at $1,299 which is not bad for a full-blown PC with few shortcuts and an HD Android Jelly Bean tablet. If the size of the tablet does not bother you (we can totally understand why some people would be attracted to its size), you may have found computer and tablet nirvana.
source: ASUS
The world's first all-in-one that is a powerful desktop PC capable of running Windows® 8 or Android 4.1 in desktop or tablet mode.
Fremont, CA (March 7, 2013) - ASUS today announced the all-new Transformer AiO. The incredibly innovative ASUS Transformer AiO provides users the mobility of a tablet with the performance of a powerful desktop PC, all in an elegant design that is just as flexible on your desktop as it is in the home. Combining stunning design and the imagination of ASUS, the Transformer AiO features a desktop PC Station with 3rd generation Intel® Core™ desktop processor technology for outstanding Windows® 8 performance, and a detachable 18.4-inch multi-touch display containing NVIDIA's® Tegra® 3 quad-core for an optimum Android 4.1 user experience. The innovation does stop as the tablet is also capable of running Windows® 8 in Remote Desktop mode. No All-in-One PC has ever offered this type of flexibility, innovation or design, and it is only available from ASUS.

Advanced Technology and Options
ASUS Transformer AiO is a powerful all-in-one PC capable of handling a wide range of demanding Windows® 8 productivity and entertainment applications. Designed for desktop use, its PC Station is powered by a 3rd generation Intel® Core™ desktop processor with NVIDIA® GeForce® GT 730M graphics for outstanding performance.

The Transformer AiO features comprehensive connectivity options, including four USB 3.0 ports – with speeds up to ten times faster than USB 2.0 – for plenty of peripheral possibilities and an HDMI out port so you can attach a monitor for extended display options including the capability to use the PC Station in Windows 8 mode while the tablet operates separately in Android 4.1 mode.

Its 18.4-inch LED-backlit display features 1080p HD resolution with 10-point multi-touch and IPS technology for bright, vibrant images with 178-degree wide viewing angles for shared enjoyment with coworkers, friends or family.

ASUS Transformer AiO also features dual-band Wi-Fi for high-performance wireless networking with compatible routers. ASUS SonicMaster audio technology delivers incredible sound so watching the latest TV show or movie, gaming, or enjoying a new album will always be an immersive audio experience.

Windows® 8 and Android tablet combined
When detached from the PC Station, ASUS Transformer AiO's tablet can be used in two different ways. First, wireless Remote Desktop technology on the PC Station allows complete multi-touch control over Windows® 8 in tablet mode for easy access to the world's largest collection of productivity and entertainment software.

Alternatively, the 18.4-inch IPS display can also be used as a standalone tablet with Android 4.1, thanks to its built-in NVIDIA® Tegra® 3 quad-core processor. ASUS Transformer AiO switches seamlessly between operating systems at the press of a button and offers up to five hours of battery life*. The display also features a convenient carrying handle and a folding stand for comfortable tabletop use when away from the PC Station.

AVAILABILITY & PRICING
ASUS Transformer AiO will be available early Q2 2013 in North America with pricing starting at $1299.

SPECIFICATIONS
Processor: PC Station: 3rd Generation Intel® Core™ i5-3350P
Tablet: NVIDIA® Tegra® 3 quad-core
Operating system: PC Station: Windows 8 (64-bit)
Tablet: Android 4.1 Jelly Bean
Display: 18.4-inch (1920 x 1080) LED-backlit with IPS technology
10-point capacitive multi-touch
Graphics: PC Station: NVIDIA® GeForce® GT 730M (2GB)
Camera: 1-megapixel front-facing
Memory & storage: PC Station: 8GB DDR3 (1600Mhz) RAM
1TB SATA hard drive
SuperMulti DVD Drive
Tablet: 2GB DDR3 RAM with 32GB onboard storage
Connectivity: PC Station: 802.11a/b/g/n dual-band Wi-Fi, Gigabit Ethernet
4x USB 3.0 ports, 1x USB 2.0 port
HDMI-out
3.5mm headphone & 3.5mm mic sockets
3-in-1 memory card slot
Bluetooth 4.0
Tablet: 802.11a/b/g/n dual-band Wi-Fi
1x Mini-USB 2.0 port
3.5mm headphone / mic socket
microSD card slot
Docking port
Bluetooth 3.0 + EDR
Battery Tablet: 38Whr Li-ion for up to 5 hours use*
Size Tablet: 11.57 x 18.34 x 0.70'
PC Station: 10.51 x 18.34 x 6.37"
Combined: 14.8 x 18.34 x 6.37"
Weight PC Station: 9.03lbs
Tablet: 5.3lbs
Recommended Stories