ARM taking Intel seriously, but not too much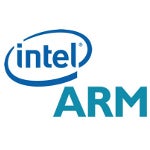 ARM has been pretty much unrivaled in the mobile processor market, with all of the big-name players like Samsung, Texas Instruments, Nvidia, Qualcomm and Apple using ARM architecture for their SoCs.
This is because ARM's chip technology has been the only solution to build very powerful, yet highly energy-efficient processors, like the ones needed in smartphones and tablets.
For the longest of times, however, Intel has been eying the mobile sector as the next big opportunity for expansion, and it's as if the company's efforts in this direction have been getting more pronounced lately. Intel made a few important announcements this year, and the first commercial phone with Intel inside is already out on the market... the not so market-disturbing Orange Santa Clara. We've also seen a handful of other Intel-powered prototypes, but nothing that really blows us away. Still, we do believe that at some (unknown) point in time Intel will eventually produce a chip that is good enough for competitive phones and tablets, and will get a piece of the mobile market. Meanwhile, though, in an interview with Pocket-lint, ARM's VP of Segment Marketing,
Vincent Korstanje
, has stated that ARM's taking Intel seriously, but has also added that ARM considers itself to be "
one to two generations ahead
".
Honestly, we share their belief. ARM isn't resting on its laurels and is constantly working to improve its tech. Intel has been preparing us for its grand entry in the mobile business, but it hasn't made any significant move yet. Halfway through 2012, we still have no reason to believe this is going to change soon.
source:
Pocket-lint