ARM shows off chips for 2016: Cortex A-72 processor and Mali T-880 graphics chip
27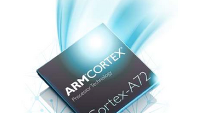 ARM introduced a couple of new chips for 2016 including the Cortex A-72 processor and the Mali T-880 graphics chip. The company says that the new designs will allow smartphone manufacturers to build thinner handsets with longer lasting battery life. In addition, ARM executive Ian Ferguson says that smartphones are beginning to encroach on functions that used to be reserved for PCs. "
I think innovation is accelerating in the phone space
," Ferguson said. "
We think the phone is becoming the primary compute platform.
" The executive says that this could be the first year that smartphone users start to create more content on their phone. Licensed partners include HiSilicon, MediaTek and Rockchip.
Not everyone thinks that smartphones can replace the PC for writing and creating. Bob O'Donnell, principal analyst at Technalysis Research, says that it is just too hard to use a mobile phone to replace a PC. He does see mobile devices benefiting from the ability to plug into a large screen.
The Cortex A-72 processor is 50 times more powerful than the technology available just five years ago. It also consumes 75% less energy than last year's CPU devices. The Mali T-880 graphics chip also offers performance boosts compared to last year's technology, and could help bring more graphically complex games to mobile devices. Both chips are designed to be produced using the 16nm process, which lets chip makers produce smaller, more powerful chips with less leakage.
source:
CNET