ARM profits grow 45%, company continues dominating the mobile space
6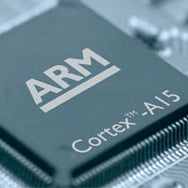 When your chip designs are all over the mobile space, you shouldn't be surprise if your growth just continues with every quarter. Which company are we talking about? Well, ARM, of course. The British chip designer reported pre-tax profits of nearly $108 million (£69 million) in Q4 2011, a
huge 45% growth
in comparison to Q4 2010, while revenue grew 21% to around $217 million (£137.8 million).
ARM's chief executive Warren East explained that the company's results were driven from more licenses sold, more new customers and increased commitment by existing customers.
In a non-catastrophic global scenario, ARM expects its 2012 profits to reach $860 million. Currently, ARM designs dominate the mobile space as Intel has made a couple of unsuccessful attempts to get the industry's attention. Intel's new Medfield platform is expected to finally rival ARM's designs later this year.