ARM doubles its profits on strong demand for smartphone and tablet chippery
1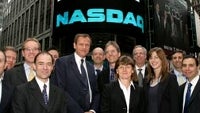 ARM just demonstrated again how viable its business model is, by announcing that
its net profit more than doubled
compared with the same timeframe the previous year - from 14.8 million pounds sterling, to 31.5 million in the third quarter of 2011. That's the equivalent of $50.4 million, and the growth pace of net profit outran the revenue growth, which was 20%.
25% profit margin is not something every company is capable of, and ARM Holdings is achieving that with about 2000 employees, which comes to show that innovation pays off well. The Brits design the architecture for all those snazzy chips inside our Android, iOS, Windows Phone, Symbian and other smartphones and tablets, then license it to chip makers like NVIDIA, Qualcomm, Samsung and Texas Instruments to make their own silicon. Buried in the report is the info that it already has these companies licensing its upcoming architecture for mobile devices as well:
Broadcom, Freescale, HiSilicon, LG, Samsung, ST-Ericsson and Texas Instruments announcing their intention to
develop chips for smartphones and mobile computers utilizing Cortex-A7, ARM's newest and most energy-efficient processor that can also be paired with Cortex-A15 to deliver low-power and high-performance in the same device;
ARM recently introduced
Cortex-A7 and the big.LITTLE concept
, where it will pair such cores with Cortex-A15 juggernauts to achieve performance boost at lower battery consumption and give sub-$100 smartphones in 2013 the power of today's high-ends.