A sobering reminder of the dangers of texting and driving [Infographic]
13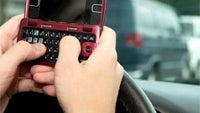 A day doesn't go by when you don't find at least one person out on our nation's road driving irregularly or erratically only to realize the person is using their cell phone in one form or another while poorly operating a motor vehicle. Despite the known dangers and, in many states, the laws that prohibit texting and driving, many drivers continue to ignore the risks or feel that their abilities are somehow superior to everyone else's.
This new infographic is a sobering reminder of not only the dangers, but also how many drivers out there continue to use their mobile devices unsafely while driving.
In 2011, 23% of car accidents involved cell phones, which amounts to 1.3 million collisions. When looking at drivers aged 18 to 20, 13% of them that were involved in an accident admitted to using their mobile device at the time of the crash.
Even though the numbers are definitely there, 77% of young adult drivers claim that they are confident that they can safely text and drive, while 55% of those drivers say it is easy to text and drive. The reality is teens who text and drive spend about 10% of their time on the road outside their lane.
We've all heard the excuses, and perhaps even said some of them ourselves:
"Reading a text is safer than composing and sending one."
"I hold the phone up at eye level so I can still see out the windshield."
"I increase my follow distance when I use my phone."
The reality is the minimal time your eyes are off the road while texting and driving is 5 seconds. If you are traveling at 55 mph, you travel the length of a football field in 5 seconds. When it comes to taking your eyes off the road, it is estimated that just talking or listening on a device increases your risk of a crash 1.3 times. Reaching for a device increases your risk 1.3 times, while dialing a device jumps up to 2.8 times. Finally, you are 23 times more likely to get in an accident while texting.
So what can be done about this? Mostly it comes down to education and awareness. Currently 10 states and Washington D.C. prohibit all drivers from using handheld cell phones, 32 states and D.C. prohibit new drivers from using a cell phone while driving, and 39 states and D.C. prohibit all drivers from texting behind the wheel. For parents that feel they just can't get the message across to their young ones getting behind the wheel for the first time, there are also a variety of anti-text and driving apps available to prevent phone use in a vehicle.