A peek into Samsung's refresh of its WatchON and S Health apps confirms a new, flatter design
30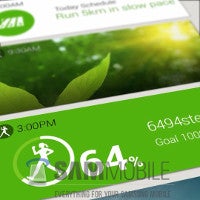 Last week
, we came across screenshots from a new app that is expected to make an appearance with the latest version of Samsung's software, likely loaded on
the upcoming Galaxy S5
. But apart from offering some new functionality, we couldn't help but notice that the app also opened a new, flatter chapter in Sammy's design language. This same philosophy applies to two other proprietary apps that the folks behind SamMobile got their hands on before release -- WatchON and S Health.
As with Life Times, both WatchON and S Health now follow the latest Android design guide-lines much more closely. It would appear that the rumors of
a closer relationship between Google and Samsung
will, after all, turn out to be true, for the South Korean company seems to have let go of its typical design approach towards Android. The new apps look sleeker, and just more modern and in tune with the times. Of course, it does remain to be seen whether this new design language will also spread to the overall UI look and feel, though it feels likely. This is great news for those of you who have been on the fence about Samsung -- its TouchWiz skin has, after all, polarized the community.
So are there any changes other than in the design department, then? According to SamMobile, WatchON remains largely the same, but S Health, on the other hand, has some extra stuff added to it. For one, S Health will now allow you to simultaneously look at your location and operate your music player all from the same screen. Take a look.