Samsung Galaxy S5 rumor round-up: release date, price and specs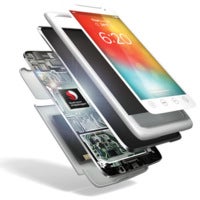 If there's anything in the mobile industry that we can feel certain about, that's the fact that Samsung is to announce its new flagship Android smartphone, the Galaxy S5, very, very soon. It is rumored that the South Korean giant is going to be among the first companies in 2014 to unleash a new top-shelf smartphone, and we can't wait to see what it's really going to look like! Well, exactly what it's going to offer, and whether it will have something to truly wow us with... that we don't know, but there is already a good number of rumors, leaks and indications, all of which can be used to paint an almost believable image of the Galaxy S5.
We've already come across tons of leaks dealing with the Galaxy S5's release date, as well as some of its technical characteristics, such as its supposed screen size, CPU and camera, and in we're bringing it all together right here. Feel free to browse through the following slideshow gallery, where you'll learn more about what's going to be one of the most-discussed smartphones of 2014!
Samsung Galaxy S5 rumor round-up: release date, price and features