A new iDEN phone coming from Singapore?
3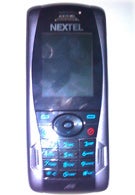 Boy, can you feel the tension that builds up on the iDEN market? Okay, we will leave the cheap jokes aside and take a look at this baby - the
i976
.This would be an upcoming phone designed to work with iDEN and GSM networks. What is interesting is that it is being manufactured by the Singaporean company with the wow-ish name, iWOW. In our view, it looks better than most of the devices currently on the iDEN catalogue, and if you aren't a big fan of clamshells, you would probably prefer this one to the stylish
Stature i9
. In addition to funky looks, the phone will also feature a 2-megapixel camera, Bluetooth and a key, which will allow you to manually switch between iDEN and GSM networks. However, keep in mind that the i976 is currently destined to hit Nextel's International operations only, so you might not be able to get it through Sprint. Besides, nothing is really official at this point, so do not hurry up to save money.
source:
EngadgetMobile