A new Angry Birds Star Wars teaser as we march closer to November 8th
4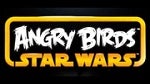 You know you have achieved a rare level of success when you are able to marry your product to the rights of Star Wars and Lucasfilm Ltd.
The folks at Rovio must be having a good time getting ready to release the next iteration of what is arguably the most successful video game in history. The creative juices are flowing with the teaser and comics piquing the imagination. The work is paying off as Angry Birds is now a billion dollar franchise.
The newest teaser does not reveal anything in terms of how this version of the game will be played, but the comics clearly follow the story line of
Episode IV: A New Hope
, the first Star Wars film release and having a Millennium Falcon with a slingshot on board may be quite amusing. Even if you are not a fan of Angry Birds, you may very well be a fan of Star Wars, so this release will certainly draw a crowd.
If this release is any good, it will certainly set the bar pretty high and make us wonder what Rovio might have up its sleeve next.
sources:
Angry Birds Star Wars
(Tumblr page) via
Redmond Pie