A malicious charger could hack your Apple iPhone
20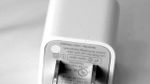 Three researchers from the Georgia Institute of Technology are expected to show a proof of concept next month at the Black Hat security conference. The trio will show how a charger could be used to
install malware
on an Apple iPhone running the latest version of iOS. The malicious charger is built around an open source single-board computer known as a BeagleBoard, available for $45. "
This hardware was selected to demonstrate the ease with which innocent-looking, malicious USB chargers can be constructed
," the researchers wrote.
The BeagleBoard can't fit into the rechargers that Apple sells for the iPhone. but it could be hidden elsewhere, like in a docking station or an external battery. The trio said that it takes less than a minute to compromise a device running iOS. "
We show how an attacker can hide their software in the same way Apple hides its own built-in applications
," reads the description for their appearance at the security conference.
The researchers have been in touch with Apple and if the Cupertino based firm responds, it should make for interesting reading.
source:
Forbes
Recommended Stories