A diamond glass display could be a smartphone owner's best friend
43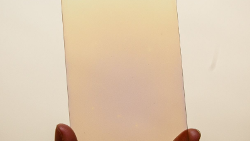 Before this year comes to an end, you could be purchasing a new smartphone sporting a display made from diamond glass. Remember when there were rumors every day about the
Apple iPhone 6 using a sapphire crystal display
? Back then, we would constantly tell you that diamonds are the hardest material in the world, followed by sapphires. But there are more advantages to using diamond glass than just its hardness. According to Adam Khan, CEO of Akhan Semiconductor, diamond glass does offers the strength and protection as you would expect, but it also will provide a cleaner screen than anything you've seen before. Khan's company grows diamonds for electronics.
Due to the lack of supply, Khan is offering his company's Mirage Diamond Glass to one smartphone manufacturer, one wearable company, etc. Another reason to limit the use of his product is to allow the companies employing it to crow about it in advertisements. Right now, the company plans to produce enough diamond glass for 10 million to 30 million phones, and less than one million wearables. That would limit the use of his diamond glass to a smaller manufacturer, at least at first.
Pricing of a phone using diamond glass would no doubt be at a premium level. The
HTC U Ultra
model with a sapphire crystal display is priced in Taiwan at the equivalent of $920 USD. That compares to the price of $749 for the device with a Super LCD 5 display. But for those who regularly drop their phones and crack their displays, paying more might be worth it. Adding diamond glass with Gorilla Glass makes the screen on a smartphone 6 times stronger and 10 times harder, according to Khan. It also could help make the electronics inside a phone run over 800 times cooler.
source:
CNET