A deca-core Snapdragon 818? Nice try, says analyst
21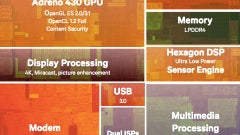 "Rubbish," as the British like to say - that's been the elegant commentary of a popular Chinese mobile industry analyst about the recent crazy speculation that Qualcomm might be prepping an answer to MediaTek's deca-core
Helio X20
chipset.
The
rumored Snapdragon 818
was said to come with ten processor cores, but the analyst, who has commented on, and been right about Qualcomm's China plans before, dismissed 818 as an elaborate vaporware.
Given that there are hardly any apps or games there, save for synthetic benchmarks, that can utilize, let alone task fully, the current quad- and octa-core processors, ten cores surely seem like an overkill. If we are talking about dedicated co-processors, like the
Apple M8
or the
Moto X8
, which serve as low-power, always-on silicon dedicated to specific tasks, then fine, but ten pure Cortex cores from Qualcomm? This analyst will have none of it.
Recommended Stories