A Mechanical Story is a fluid, elegant grid puzzler for iOS
2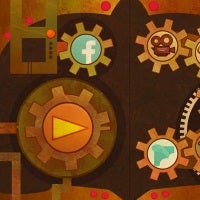 A Mechanical Story is a game in which you have to make a mechanism work with nothing but your natural instincts for what goes where. You are presented with a scheme of a mechanism in which you must place individual parts - cogs, pistons, shocks, and other tools of the trade. Mind you, this isn't "Ridiculously Realistic Mechanic Simulator 2014", but rather a casual, friendly, and challenging puzzle game of making things happen.
The game is spread out over 48 individual levels divided into four chapters. Each chapter is rendered in a different color scheme, and the visuals, as a whole, are pretty amazing. The backgrounds are animated and have parallax displacement for an immersive feel. A bunch of introductory tutorials will help you land on your feet, and the Game Center/Facebook connectivity lets you brag to your friends about your progress.
With A Mechanical Story and Monzo on the scene, it's safe to say iOS has those hobbyist building simulations covered. It helps that the former costs just $0.99 in the App Store right now.