911 dispatchers having trouble locating cellphone users
10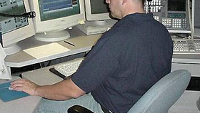 911 emergency dispatchers say that they are running into trouble getting the police, fire or ambulance services sent to the right address whenever the initial call comes in from a cellphone. A published report Monday says that the information that these dispatchers receive from a 911 call placed with a cell phone, has a radius of a few hundred yards of where the caller is. In situations where seconds count, looking for someone in that wide a range could be fatal.
According to the U.S. Census, 38% of U.S. households now use only a cellphone. In an 18 month stretch of 911 calls monitored in California, 75% of them came from a cellphone. Obviously, tracking needs to be improved. And while GPS technology can pinpoint a cell caller, it takes as long as 15 to 30 seconds for it to be available to dispatchers. That is too long considering that responders are usually dispatched within 60 seconds. Additionally, GPS signals indoor are not nearly as strong or accurate as those sent from outdoors.
"Right now, there is no high-yield, high-accuracy, zero latency 911 technologies out there. There are tradeoffs."
-Eric Hagerson, senior regulatory affairs manager, T-Mobile
Despite having to wait for it to kick in during a call, many carriers have switched to a GPS-based system for emergency calls. The carriers say that this change is now allowing 911 callers to be placed at a location within 55 yards. That things need to improve can be best seen with the use of an example. A few years ago, 21 year old Denise Amber Lee was kidnapped outside of her home in southern Florida. Despite a 6 minute cell phone conversation to 911 from the back of the kidnapper's vehicle, Lee was murdered. Steve Souder, who runs a 911 call center in Fairfax County, Virginia, says that location accuracy needs to be improved. However, Verizon's vice president of public safety policy, Donald Brittingham, doesn't seem to believe that this is a major issue.
"This is not some indication of a major problem. There may be some time issues associated with it, but we're also improving in that area."
-Donald Brittingham, VP of public safety policy, Verizon Wireless
source:
WSJ