90% of smartphones will be cloud-connected next year says Qualcomm
10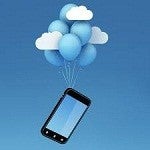 This may come as a surprise, but apparently not all smartphones are cloud connected according to Qualcomm, at least not in the way they envision use of the cloud. The giant chipmaker states that 9 out of 10 smartphone users will use some form of personal cloud in 2013. On top of that, Qualcomm also believes that smartphones will outpace PCs as cloud-connected devices the following year.
Based on the premise that "local networks are in the home and relationships are in the cloud," Rob Chandhok, President – Qualcomm Innovation Center, stated that the smartphone has become the primary portal for the digital life. It is growing into activities like home HVAC control, smart appliances and the like. It is all controlled through the cloud via the smartphone.
For many regular readers, this may seem like stating the obvious in terms of technology, but the reality is that most people have not advanced their interactions to that extent...yet. There is no other device other than the smartphone in the foreseeable future that will assume this role.
Qualcomm, being on the cutting edge of LTE chipset technology sees this technological leap being made very soon. The company estimates that there will be a ten-fold increase in mobile traffic in Europe by 2015. That will be due, in part, to LTE networks lighting up across the EU in the near future.
Qualcomm COO, Stephen Mollenkopf said it succinctly, "We want devices to react to what's going on around you, to learn more about you, and then use it to improve your life."
source:
Pocket-lint