8 of the best music games for Android
7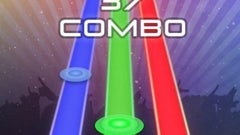 Did you know that Google's Play Store contains a sub-category dedicated to "music games"? However, many of the titles included there aren't games, but apps that virtually reproduce various musical instruments. While some of those are definitely cool, we're not sure why they're labeled as games.
Anyhow, if you're looking for the best music-related games that are currently available on Android, don't waste your time trying each and every title that Google is presenting as a music game. Instead, check out our selection of games below (both paid, and free titles are included). All the games that we're presenting are highly rated, and they're in alphabetical order. Enjoy!
P.S.: If you're wondering why Tap Tap Revenge (a classic music game for smartphones and tablets) isn't included here, it's because
the game has been discontinued
.