Tapulous' Tap Tap series officially becomes iOS gaming history
2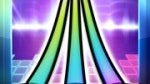 Following the January 7 resignation of its CEO, Bart Decrem, Tapulous announced on Tap Tap Revenge's Facebook page that the franchise is shutting down. According to the company, it no longer makes sense to maintain the game within the ever-changing mobile and music markets. Thus, the Tap Tap games, of which there are no less than 23, are getting pulled from the App Store today, and Tap Tap's servers will be closed in the beginning of February. Once this is finished, Tap Tap users will still be able to play the games and any tracks they've downloaded, but won't be able to restore them, or access new songs. All this applies to the Android versions of the games, too.
It's more than a little unfortunate to see the franchise head for the abyss, as the Tap Tap games are not only an App Store classic, but a bright piece of iOS history, too. The original game, Tap Tap Revolution, was one of the earliest titles for the iPhone. It was released on September 11, 2007, less than two months after the original iPhone shipped, and about ten months before the App Store launched. Thus, the game had to be downloaded from the blog of its developer, Nate True, and required a jailbroken device to be installed and played.
Later, its creator was hired by the gaming startup Tapulous, and a revamped version, Tap Tap Revenge, became an App Store launch title in June 2008. The free game amassed more than a million players in less than a month. In the years after, Tap Tap Revenge had four official sequels, and a ton of artist-centric spin-offs, which began with Nine Inch Nails Revenge, and ended with Born This Way Revenge, based on Lady Gaga's second album of the same name. In 2010, the Tap Tap games had collectively amassed over tens of millions of downloads.
Since 2010, Tapulous is a wholly owned subsidiary of Disney Interactive Media Group. The Tap Tap games, or at least what's left of them, shall be the last remnant of its independent years.