8 obscure Android features and what they do
15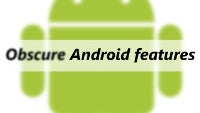 Two Android devices, using the very same build of the OS, can be quite different in reality if they're made by different manufacturers. So much so that it's not rare for (uninitiated) friends and family members to ask us whether a heavily skinned device is an Android device. It's kind of weird.
And while this division can be all kinds of problematic, the open nature of Android is what, ultimately, ensured its jaw-dropping propagation. And what some folks seem to forget is that while stock Android — the Android that comes out of Google's HQ — is comparatively feature-poor, all custom solutions by third parties are built
on top of
of a core stack of code. So the foundation is almost universally identical — manufacturers just add blocks on top.
Speaking of that foundation, the Android device in your pocket is almost assured to contain a score of almost entirely obscure features that we often find people are befuddled by. That's because these are quite cryptic, and unless you have the unwavering will to dig through Android help files, you'll likely never know what they do. As a sort of a weird educational challenge, we thought it a good idea that we shone some light on a few of them.
Let us know if you ever stumbled upon any one of them and stared blankly.
Depending on your Android version, some of the examples below might not be available with your device.