7" Apple iPad is already a "finished product" and looks similar to the iPhone 4?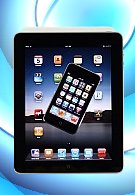 There is no shortage of news regarding tablets as we've been experiencing of late, especially when the busy holiday season is just right around the corner, but there are new rumors regarding the next iteration of Apple's iPad. Based on rumors emanating from production plants in Shenzhen, China, there is a report that Apple is indeed working on a 7" sized tablet that'll embody most of the design elements in use with the iPhone 4 as opposed to the current iPad.
In fact, it appears as though that Apple already has a "finished product" for its 7" iPad, but there are apparently 5 other designs floating around to help keep prying eyes from leaking the final product. As we're beginning to see now, the sweet spot for tablets can be found in the 7" size – which is probably why Apple is trimming down with their next tablet.
Naturally, the smaller design would also translate to a cheaper price tag – which would definitely bode well for consumers as the tablet market continues to become fierce over the coming months. Since Apple firmly has a grasp on the tablet market right now, they can seemingly dictate the pricing of other competing tablets. When you look at the bigger picture, other manufacturers will need to modify the pricing of their tablets to better compete with the pricing that Apple will grace its next tablet – so yeah, it'll be intriguing to see how the market will play out.
Apple iPad Review
via
Apple Insider