60,000 Android units shipped daily says Google
This article contains unofficial information.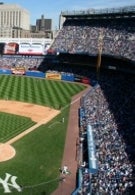 Think of Yankee Stadium and imagine each seat in the ballpark is filled with an Android handset (no smarty, it doesn't matter which model!). That is the number of Android flavored units that are being shipped each and every day according to none other than Google CEO Eric Schmidt. The exec passed this note along during his speech at the MWC and while de didn't make it clear if he meant shipped to retailers or sold to end-users, the point is that the green robot has some strong momentum. At the rate that Schmidt stated, that would work out to 5.4 million units shipped per quarter or nearly 22 million over a year's time. And the pace is increasing. This quarter's shipping rate is about twice as much as the prior period's number.And in case you were wondering-and we know you were-Apple sold 8.7 million iPhones last quarter which makes Android a very powerful presence that the Apple handset can feel coming up right behind it.
source:
MobileCrunch