6 sleep tracking gadgets that connect to a smartphone and improve your quality bedtime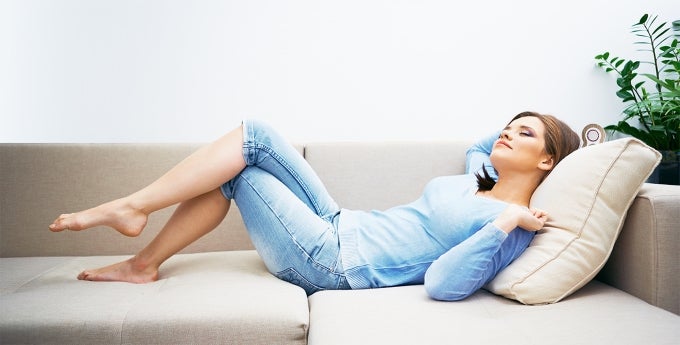 Fitness trackers, time trackers, location trackers, sleep trackers – we are living in the age of the quantified self where everything is connected. And if it isn't, don't worry – sooner or later, one is bound to put a chip in it and make it talk to your smartphone. Don't believe us? Look – we have connected socks, alright? Connected socks, for crying out loud! It may sound hilarious, but smart socks are better than dumb socks, period.
Back to the topic at hand – sleep trackers! Smartphones are a notorious for ruining sleep, but there's a way to turn things around and make them work in favor of your good night's sleep. The connected industry has come up with several innovative products that track your sleep, wake you gently, and provide tips on how to make your snoozing better.
Here, we've got six smartphone-connected gizmos that go next, under, or right inside your pillow and quietly make you sleep better in a variety of scientifically proven (or not so) ways. Check out this glimpse of the connected future, a future that's very much here.
Beddit 2.0
Beddit is a Smart Sleep Tracker that tracks your sleep quality by tracing sleep stages, noise and light levels, waking up at night, and other significant factors. The best thing about it is that you don't have to wear any gadgets and accessories on you, unlike less refined (but cheaper) sleep trackers. Beddit is meant to go under your bed sheet with you sleeping on it (don't worry, it's no cause for discomfort).
The sleep tracker connects to your iOS devices, and since it's an easy position to do so, it's able to replace your alarm by waking you up at an optimal hour of your sleep cycle. The paired application serves the accumulated metrics, sleep reports, and also tips you about ways to improve sleep and overall well-being.
Chrona
Chrona has a different paradigm for tracking sleep – it turns your ordinary pillow into a smarty-smart pillow. The product consists of a sensor that goes inside your pillow case, and a paired smartphone app. The sensor measures the movements of your head and torso and contributes to your sleep quality by playing low-frequency sounds tuned according to the sleeping cycle stage you are in. It also contains a haptic alarm, which is able to wake you up without eeking out your partner. The smartphone app lets you adjust the sleep optimization settings, check your sleep score, and set the haptic alarm. Nifty!
Hush
Hush is a pair of smart wireless earplugs which isolate noise for comfortable sleep and quietly wake you up first thing in the morning. If falling asleep in silence isn't your thing, Hush can play soothing sounds for you. Hush can also beam important alerts and notifications from your smartphone so you don't miss events like alarms and emergency phone calls.
Speaking of the bundled app, the most clever feature has to be the tracker that helps you find the darned things when you lose them – which is inevitable, given the earplugs' miniature size. The plugs arrive in a compact carrying case that doubles as an USB charger and battery. The capacity is good for three full recharges before you have to plug in.
Hugone
Now here's a sleep monitor the whole family can enjoy! Meet Hugone – just place the big Hugone somewhere it looks nice, and its Minihug sensors under mattress covers, and the apparatus will start monitoring everyone's sleep cycles. The delightfully futuristic gadget can also monitor other things in your surroundings – and these would be temperature, humidity, and air quality. You can trust it to notify you if there's anything upsetting going on in your bedroom. Hugone does other nice things, also – it connects with smart bulbs and thermostats to wake you up at the right time, while the paired application provides personalized sleep advice for everyone in the family.
Aromacare
If you're accustomed to falling asleep bathed in fine aroma, Aromacare is just the thing you never knew you needed. This is a smart essential oil diffuser that disperses delightful scents while letting you program individual aromatherapy sessions for yourself and others. The aroma is contained inside a small unit that goes inside the device. The different units contain varying blends of essential oils, designed for a specific purpose. At launch, Aromacare will ship with 6 blends. And as for the application, it contains information about the scents so you know which one to use, and lets you program aromatherapy sessions by days, hours, and scents. Hopefully, the thing will ship sooner rather than later!
ALSO READ