6 USB Type-C cables you can buy right now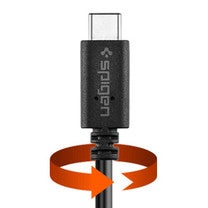 This isn't the first post of ours revolving around USB Type-C, and it surely won't be the last. After all, that's shaping up to be the USB connector of the future, and while it has not reached the point of mass adoption yet, it is definitely headed in that direction. The reason? USB Type-C has a number of benefits over the well-known Micro USB connector – it is reversible, it can carry a wider range of signals, and it allows power to flow in either direction.
But there's this one thing about USB Type-C that's pretty annoying – the connector is incompatible with existing Micro USB cables. In other words, if you need a spare cable for a gadget that has a Type-C connector, you'll likely have to buy a new cable. The good news is that USB Type-C cables can be easily bought online. Here are some of the better options if you're in need of a spare USB
Type-C cable
.