5 ways your smartphone can get you into shape
13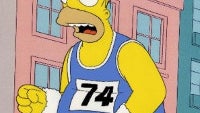 Ah, spring is in the air, and we all know what that means! No, it's not about the spring showers folks, but rather, it's the short time we have before summer's impending arrival. Knowing that, many people are probably starting right now in getting that beach body ready for those hot summer days down by the shore. Some of us might be bursting full of energy right now
trying to get into shape
, but interestingly enough, our
smartphones can be our best personal trainers
fit for the undertaking.
From the looks of it, our smartphones seem as though they're capable of doing almost anything when it comes to benefiting our lives. Frankly, I attribute many of my fitness accomplishments to my smartphone – mainly because I centered my goals around it. Well, it's not like my smartphone is constantly badgering or "
motivating
" me to not eat this, or start doing more of that. Come to think about it, reaching any fitness goal comes from within first and foremost. Meaning, you genuinely want to reach a fitness goal on the inside.
Over the course of the last year, I can vouch tremendously on how
smartphones can be used strategically to lose weight
– or merely just reach a specific fitness accomplishment. Ultimately though, it comes down to your own determination, perseverance, and motivation to actually make that change you've always wanted. Alrighty folks, so here are
5 ways your smartphone can get you into shape!