5 things that would make the Asus ZenFone 2 an even better handset
16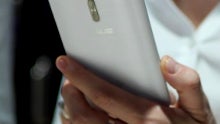 The
Asus ZenFone 2
is one of the very pleasant surprises unveiled at CES 2015. Asus really outdid itself in its signature value-for-money territory, outing a phone with 1080p display, 13 MP camera, fast 64-bit processor, and a hearty battery for two Benjamins in starting price.
Not only that, but the ZenFone 2 also has a version with 4 GB of RAM, making it the world's first device taking full advantage of the new 64-bit hardware and software combo in Android land.
All in all, there's not much that can be argued against a $199 phone with 1080p display, 64-bit chipset, 13 MP camera and a generous 3000 mAh battery, as Asus really nailed the value-for-money proposition here. We wouldn't be the phone-obsessed honchos we are if we couldn't find room for improvement, though, so here are a few things that Asus could have done just a lil' bit better with the ZenFone 2.