5 smartphones that broke Guiness World Records
23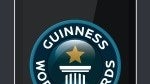 On 10 November 1951, Sir Hugh Beaver, then marketing director of the Guinness Breweries, went on a shooting party in the North Slob, by the River Slaney in County Wexford, Ireland. Find it on Google Maps, it's an amazing place. Anyway, after missing a shot at a golden plover, the gentleman found himself in an argument over which was the fastest game bird in Europe, the golden plover or the red grouse?
In the heat of the moment, Sir Beaver realised that it was impossible to confirm in reference books (what they used before, you know, Wikipedia) whether or not the golden plover was Europe's fastest game bird. Falling short on substance behind his educated argument, Beaver knew that there must be numerous other questions debated nightly in pubs throughout Ireland and abroad, but there was no book in the world with which to settle said arguments about records. Perhaps the noble sir knew little of the club law. But nevertheless, he gained a valuable idea! He realised then that a book supplying the answers to this sort of question might prove successful, and this is the short briefing on how the Guinness World Records were born.
Throughout the course of history, many animate and inanimate objects have entered the pages of this peculiar reading. Many of them gained fame or notoriety because of it. As of recent, smartphones too have become Guinness record material! Here's a brief showcase of 5 record-breaking smartphones for your entertainment.
Recommended Stories