5 of the best screen recording apps for Android
2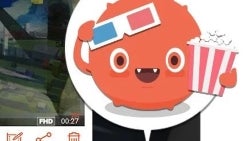 Screen recording apps are perfect for gamers who want to record their gaming sessions, makers of tutorial videos, app developers showcasing their applications, or just to show off your fancy new Android launcher or live wallpaper. Or maybe you are video chatting with your friends and family and want to record the session to replay it later. There are many situations like this where a screen recording app is just the thing to help you accomplish your goal. We've rounded up five of the best Android apps in this category. Try them out and see which one has the features and ease of use to make it stick.
Mobizen Screen Recorder
Mobizen is completely free and lets you record and edit videos. It supports resolutions between 240p and 1080p (up to 60FPS), along with input from the front-facing camera so you can be included in the footage. As for editing, you are able to add background music, trim the footage, include video and outro with your signature, split, and extract frames. Pretty basic, but it could be just what you need.
Telecine
With Telecine, you can capture full resolution videos directly on your phone. The app doesn't have recording controls cluttering up the video or USB debugging notification in your status bar. Rather, you launch an overlay and navigate away from the app. The overlay will remain, allowing you to press record when you are in the target app, then it will disappear while recording. To stop, just press the area where the overlay used to be before it got hidden.
REC Screen Recorder HD
REC Screen Recorder can handle screen and audio recording for up to one hour, recording audio with your device's built in microphone. All controls and options are accessible inside the app and you can set the recording sessions according to your preferences. Your configurations can be saved to Presets so you don't have to repeat them every time you want to record your screen. The app features a fully customizable countdown timer and lets you set up your screen recording flawlessly. It also lets you stop your recording session earlier than planned with two simple steps: either shake your device, or press your phone's power button.
AZ Screen Recorder
AZ Screen Recorder boasts plenty of advantages, such as no time limit, no watermark, ad free interface, and ease of use. AZ screen recorder lets you record your screen to HD and FullHD videos, letting you pause and resume while recording. You can also record audio from the mic and have it automatically muxed into screencast videos. The floating window always staying on top and it will let you snap at the exact moment on any screen. Also, the settings let you enable screen touches so people who are watching your videos know exactly what you are doing. The app features a Magic button to control your recording without showing anything on the screen. You can also record your face and emotions inside a small overlay window that can be dragged freely to any position on the screen and customized to any size and opacity. There are also a countdown timer, the ability to draw on screen, and the option to trim videos.
GameDuck
Made for gamers who want to record gameplay, Gameduck lets you upload videos, include facecam footage, and record your voice at the same time. Through the GameDuck community, you'll find out about the most popular mobile racing, role-play and casual games! You can learn about new games and tricks on your personal news feed, share your thoughts and interests, post gameplay recordings, and enjoy friends' posts.
ALSO READ