5 must-have games that are currently discounted (Android and iOS)
6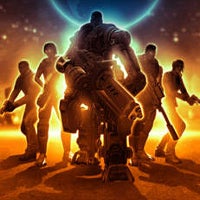 Well, the weekend is nigh, so what better to do than stack up on a few games for some leisure time? And what better way to stack up on games than have been discounted? The bargain deities have smiled upon us this week, as there are a few must-have games that are currently discounted on both the App Store and Play Store!
Seems like it's "strategy week" in the mobile world, but don't worry – there's an arcade RPG and a dungeon crawler in there, too. So, check the titles out, let us know which ones grabbed your attention. Did you enjoy them?
XCOM: Enemy Within
The turn-based tactical strategy that rebooted the franchise and did so with class. XCOM: Enemy Unknown and its expansion – Enemy Within – quickly became favorite among gamers worldwide – no matter whether they are fans of the old titles, or just strategy genre enthusiasts. If you fall in any of these categories, you've probably played it by now on console or PC. If you've so far put off the thought of buying it for mobile, maybe its current discount may sway your mind?
Baldur's Gate: Enhance Edition
An iOS-port of the PC role-playing classic, Baldur's Gate hails from the age when Diablo first took the world by storm. The title we have here managed to prove itself as a classic dungeon crawler in its own right, rising above bland copies.
Hitman GO
Hitman GO is a turn-based puzzle game in the traditions of stealth Hitman games where you have to strategically move around fixed spaces on a grid to avoid your enemies to ultimately infiltrate locations and hit your targets. More of a tactical turn-based / puzzler game combo than a stealth title, Hitman GO will have your mind gears churning as you try to unravel some of its puzzles.
Deep Dungeons of Doom
Deep Dungeons of Doom is an action-RPG, which has a pretty simplified combat system – let us stress – simple to learn, but definitely not simple to master. The game made the jump from freemium to premium some time ago, and its price has been fluctuating since. It can currently be had for $1, which is quite a deal, so long as you are into quick bursts of action RPG duels in retro styling.
WH40k: Storm of Vengeance
Storm of Vengeance is a "tower offense"-type game set in the Warhammer 40k universe. What we mean is that it sort of plays like the popular Plants vs Zombies lane-based tower defense, however, instead of building barricades to fend off enemies, you are deploying soldiers that are attacking back. The best defense is a good offense, it seems.