5 cool smartphones that you've likely never heard of
11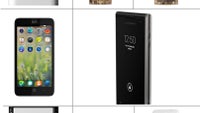 Google, Samsung, LG, Sony, Apple, HTC... browse our news section, and the majority of stories are related to just these brands. Does that mean that the industry has nothing else to offer? Of course not! In fact, even we are constantly surprised when we stumble upon new and not-so-new manufacturers that are comparably tiny, and we do this kind of thing for a living.
So we rolled our sleeves, dug deep, and came up with five devices that you've very likely never heard of, but whose story is interesting enough. From classy, luxurious (and outrageously expensive) smartphones, through ones that offer truly unique features, and down to a device that has been put together by a team that only uses materials from non-conflict zones and works around the clock for a fairer economy, the devices below are impressive in one way or another.
Tonino Lamborghini 88 Tauri
Let's start with something ridiculously beautiful, and even more ridiculously pricey – the Tonino Lamborghini 88 Tauri. It costs the whopping $6,000, but unlike many of the luxury smartphones we've seen, it actually has a pretty sporty heart as well. In other words, while the 5-inch (1080p) phone is made out of premium leather and stainless steel and looks absolutely unique, underneath the fancy exterior resides a quad-core Snapdragon 801 processor along with 3GB of RAM, a 20-megapixel rear camera with dual LED flash, an 8-megapixel front-facing selfie camera, a hearty, 3,400 mAh battery, two active SIM slots, LTE, and Android 4.4.4 KitKat.
Geeksphone Revolution
Unless you live in Spain, it's unlikely that you've ever come across Geeksphone products, and even locals could very well be unaware of the existence of this company. Geekphone's latest smartphone – Revolution – comes with a unique selling point, though, and an affordable price tag. What's that special feature? The ability to boot into two separate mobile operating systems – Android and Mozilla's Firefox OS (and supposedly any other open source platform).
Of course, with a price tag of just €123 unlocked, don't expect the Geeksphone Revolution to knock your socks off with its fancy hardware. Instead, we've got a 4.7-inch device with qHD (540 x 960 pixels) resolution display, a dual-core Intel Atom Z2560 (1.6GHz) processor, 1GB of RAM, 4GB of expandable storage, an 8-megapixel rear camera, and a 2,000 mAh battery. The device ships with Android installed, but you can add Firefox later on through the Settings menu.
Fairphone
Price: €310.00 through Fairphone (currently out of stock, more expected by January end)
The Fairphone is the kind of device that puts the environment and people first, at least according to... Fairphone, of course. But it's not just an empty promise – the tin & titanium within its body has been sourced from a conflict-free zone and the phone itself is produced in a Chinese factory with a worker-controlled welfare fund. It's also freely rootable (won't void your warranty), offers a replaceable, 2,000 mAh battery, and Fairphone are selling spare parts on the cheap in case something breaks down and you're out of coverage.

The rest of the specs include a 4.3-inch qHD (540 x 960) resolution display covered with Dragontrail Glass, a quad-core MediaTek MT6589 processor, 1GB of RAM, (expandable) 16GB of internal storage, an 8-megapixel camera with "stabilization" (unclear if digital or optical), and Android 4.2.2 Jelly Bean.
Lumigon T2 HD
If you're into luxurious-looking, but don't have the luxury of dolling out thousands of dollars, then Danish Lumigon's T2 HD smartphone is a good alternative. It costs $578 (VAT excluded) and features a stainless steel, waterproof- and dust-resistant body (IP55), within which Lumigon has nestled a compact, 4.3-inch display with 720 x 1280 pixels. Underneath, we've got a dual-core Snapdragon processor with Adreno 320 graphics, 2GB of RAM, up to 128GB of internal storage, IR blaster, gesture support, extra sensitive touchscreen (gloves mode), and a 13-megapixel main camera with a dedicated shutter key. Up at the front, we're looking at a 2.4-megapixel selfie cam
with
flash.
LG Fx0
Price: $420 in total paid over 24 months with au KDDI (Japan)
Exactly one month ago, LG and Japanese carrier au KDDI jointly introduced the Fx0 – a very unique-looking device running on Firefox OS. It's actually the highest spec'd Firefox OS device on the market, and certainly the most intriguing in terms of its design.
Anyways, hardware-wise, we're looking at a 4.7-inch, 720 x 1280 pixel resolution screen (312 ppi), powered by an LTE-enabled, quad-core Qualcomm Snapdragon 400 chipset with four 1.2GHz Krait 300 cores and an Adreno 306 GPU, along with 1.5GB of RAM. There's an 8-megapixel snapper at the back and a 2.1-megapixel selfie cam at the front, both of which are of unknown make. The phone is kind of chunky, with dimensions of 5.47 x 2.76 x 0.41 in (139 x 70 x 10.5 mm), and a weight of 5.22 oz (148 g). The rest of the specs include 16GB of internal storage (expandable through microSD for up to 64 gigs more), a 2,370 mAh battery, and Firefox OS 2.0.