5 charging and data cables that work with both Android and iOS devices
15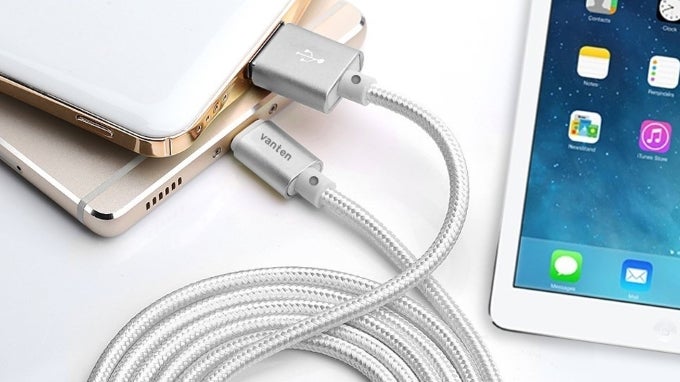 If you happen to own and use both Android and iOS devices, you surely must have had a fair share of failed attempts at inserting Apple's Lighting cable into the droid's microUSB port. It's a dreaded mistake that becomes all too common when you are a player in both mobile teams, and it gets especially worse when all your charging and data cables happen to be of the same color!
There are a number of solutions to this problem and other inconveniences brought by the port mismatch. One of them is buying a multi-functional cable that handles both Lighting and microUSB-equipped devices. This way, you can simply keep one in the charger, one in your computer, and you'll always be ready to go, no matter which device you want to charge or use at the moment.
We've lined up a selection of five highly rated multi-connector cables you can easily order from Amazon. We reckon you'll be pleased with any one of these clever problem solvers, so check them out and consider your options. Alas, there are no USB Type-C options here, but we promise to do some research on Type C/Lighting cables soon.
Vanten USB 2.0 Male to Reversible Micro USB and Lighting Cable ($12)
This cable features four-core copper wires which supposedly results in enhanced charging and data transfer speeds. Its current is rated at 5V/2.1A while the USB connector is version 2.0. The connectors are made out of oxidation-resistant aluminum alloy while the nylon-braided cords offer superior durability and flexibility. Compatible with all microUSB Android devices and all Lighting-equipped iOS ones, the cable is 3.3ft (1.06m) long and comes with a 2-year warranty as well as risk-free lifetime replacement warranty.
Leegoo Universal Charging Cord
This 3.3ft (1.06m) cable is a 2-in-1 data sync and charging accessory that's compatible with both iOS and Android devices. Its maximum transfer speed is up to 480Mbps while its thicker wire supposedly allows for high-current transmission of up to 2.1A.
Polanfo Dual Micro USB Charging Cord & Data Cable

In addition to Lighting and MicroUSB connectors for data transfer and charging, this cable has a flat design to stay tangle-free. What's more, the connectors feature caps to stay clean and protected. With its durable and tangle-free design, it's great for traveling, too.
IVVO 4 in 1 Multifunctional Universal USB Charger Cable

If maximum connectivity is what you're after, this cable delivers like no other. Although this is just a charging cable, it's nevertheless able to charge 30-pin and Lighting port iOS devices, as well as regular microUSB Android devices and ones with microUSB 3.0 connectors (like the Samsung Galaxy S5 and Galaxy Note 3). The cable is 3 feet long and features a simple, portable design that makes it rather convenient. It's sold with a 30 day money back guarantee and a one year warranty.
Tour 2-in-1 Android Micro USB / Apple iOS Lightning Cable
Another choice of cable, this one has Lighting and microUSB connectivity with data transfer and charging. It also has a special trick up its sleeve. It lets you charge an iPhone from an Android phone and vice versa, or transfer photos between the devices. Your Android phone needs to have USB OTG functionality enabled for the procedure to work.
Also read: