5 business cases for the new iPad
3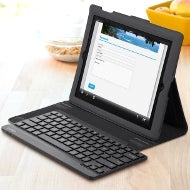 More and more businesses and government entities are starting to use the iPad or other tablets for the day-to-day grind, instead of pushing paper around.
A nice business folio for the new iPad means compartments for your business, access, ID and other cards, slots for good ol' paper notepads, as well as a place for the inevitable pen or stylus. For those who never got around getting used to the coldhearted on-screen keyboard, or just need the whole screen real estate, protective cases with Bluetooth keyboards come to the rescue.
Accessory makers have obviously been in possession of the new iPad's dimensions for a while, since they hardly waited for Tim Cook to deliver the closing remarks of the March 7 unveiling event, and cases were already up on their websites, or getting put on the shelves in stores.
The
new iPad
differs only slightly in dimensions to the iPad 2, but manufacturers came up with brand new case offerings as well, even for some models that weren't a snug fit. Scosche, Belkin, Kensington, Targus and the rest of the case&accessory gang already entered the fray with new case editions, or indicated compatibility of their previous gear with the 3rd generation of Apple's tablet. Let's see some of those cases than can make living with your new iPad in the corporate world a wee bit easier.