5 best call forwarding apps for Android smartphones
3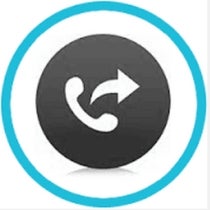 If you've been looking for smart and quick ways to forward calls on your Android smartphone, you've come to the right place. These are our picks of the best 5 call forwarding apps that you can find in the Google Play Store.
For when your battery is running dry, but you still want to be able to take calls, call forwarding can really be a life saver. Available on land lines for a few good decades now, call forwarding took another dimension with the introduction of the smartphone.
Sure, you can still use special carrier codes to set up call forwarding on any phone, but it turns out that some Android apps available in the Google Play store make it much easier to set up the feature, and some also add smarter approaches to the table as well.
When making our picks, we had multiple criteria in mind. Some apps made this list because they're quick and easy to set up. Others are a bit more complex, but you'll find that they allow for a bit more flexibility and add smarter features to the mix.
Note:
before enabling call forwarding on your smartphone, make sure to check with your carrier first. Depending on the exact plan you're on, some of the carriers in the US associate special fees with the feature. Some carriers also use non-standard codes for disabling call forwarding, and you'll probably want to know those as well. Here are links with details for
AT&T
,
Verizon
,
Sprint
, and
T-Mobile
customers.
Simple Call Forwarding
As the name suggests, Simple Call Forwarding is a quick and easy way to set up call forwarding on your Android smartphone. Just select the carrier you're on, enter the number you want to divert your calls to, and you're set to go. To make things even easier, the app also comes with a widget that can be used for one-click activation/deactivation. On the downside, the app is priced at $2, which is just a tad too much given its simplicity.
https://play.google.com/store/apps/details?id=com.guywmustang.callforward&hl=en
Call Forwarding

If you want you call forwarding app to be able to create the correct settings for all major US carriers, Call Forward is a free app to consider. It's somewhat limited in terms of functionality, but it will work out of the box, no knowledge of special codes needed.


Forward My Calls

This app won't win any naming originality prizes either, although it turns out to be a very useful piece of software. What this free app adds in the mix is the ability to forward your calls to a specific number when a certain Wi-Fi SSID is detected. For instance, the app can automatically turn on call forwarding only when you're connected to your home router.


Remote Call Divert


This call forwarding app can prove to be a lifesaver. Once you've installed Remote Divert on your Android smartphone and set up a password, you can remotely activate call forwarding by sending a message to your device. If you forget your smartphone at home or work, you can send a message to ensure that your calls are diverted to a secondary phone number.


SMS Call Forward / Divert


This app works a lot like Remote Divert, but it's a lot more complex. It not only allows you to forward text messages, but it can also be remotely activated and configured. You can remotely retrieve contact numbers, GPS or Wi-Fi information, and many other things. The downside is that the app was designed with the European call forwarding standard, and that you'll have to manually change the suffixes to match the US standard.