5 things you can buy for $1,980 instead of the Samsung Galaxy Fold
22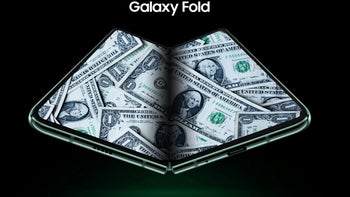 The Samsung Galaxy Fold is here. Hooray! Everyone with a $2,000 burning a hole in their pocket can go ahead and pre-order the first-gen foldable phone that will be hitting the shelves.
However, as a rule of thumb, getting a first-gen product means that you will be paying for the privilege to use this exclusive phone and any all issues that might arise. Judging from the latest reports, there might be some issues plaguing some Galaxy Fold devices out in the wild, and there's always the chance that your device might exhibit such nasty problems.
Remember, people, don't peel the tiny film plastered over the display!
Anyway, seeing how people are willing to shell out so much money for a phone, we decided to round up a few other very enticing things that you can purchase for $2,000 or less. We don't say that these are better buys, but the sensible amongst you would certainly think twice between getting that foldable device.
Yep, you can get the exquisite Galaxy S10+ in ceramic black or white color with 512GB of native storage, treat it to a nice
leather case
in beautiful navy color, get yourself a nice manly wearable like the
Galaxy Watch
, treat yourself to the new Galaxy Buds for the gym, and top it all with the neat dual wireless charger. All of this would cost you a paltry $1,929 and still leave you $60 to treat yourself to an exquisite lunch in a restaurant. Win!
#2. Get into the Apple ecosystem

#3. Google crowd, this is for you
Google Pixel 3 XL 128GB
(
$999
)
Google Pixel 3 128GB
(
$899
)
Pixel Fabric Case
(
$40
)
Pixel Fabric Case
(
$40
)
------------------------------------------------------------------------
Total $1,979
Yes, you can buy two Pixels and outfit them with those cool fabric cases. One for you, one for the missus. You will both get the stock Android Pie experience, one of the very best cameras in the mobile space, and a great overall experience. What's not to like?
#4. MacBook galore
13" MacBook Pro w/ 16GB RAM, 512GB SSD, 7th-gen Intel Core i5
(
$1,899
)
Incase 13" ICON Sleeve Case
(
$70
)
Starbucks White Chocolate Mocha, Venti (
$4.75)
------------------------------------------------------------------------
Total $1,973.75
You can't really run FinalCut Pro X on any other hardware than an Apple computer, so getting a 13" MacBook Pro with a sleeve case is justified. Certainly, it will be more useful in terms of productivity than the Samsung Galaxy Fold, don't you think?
This extraordinary selection of products will treat you to not one, not two, but multiple weekend escapades full of gaming and fun as well as a slew of rather tasty yet unhealthy dietary choices, but it is what it is. You'll get a grand total of 75,400 calories from these good-boy snacks as well as enough games to wall yourself in the basement till 2022.