5 best external microphones for smartphones
8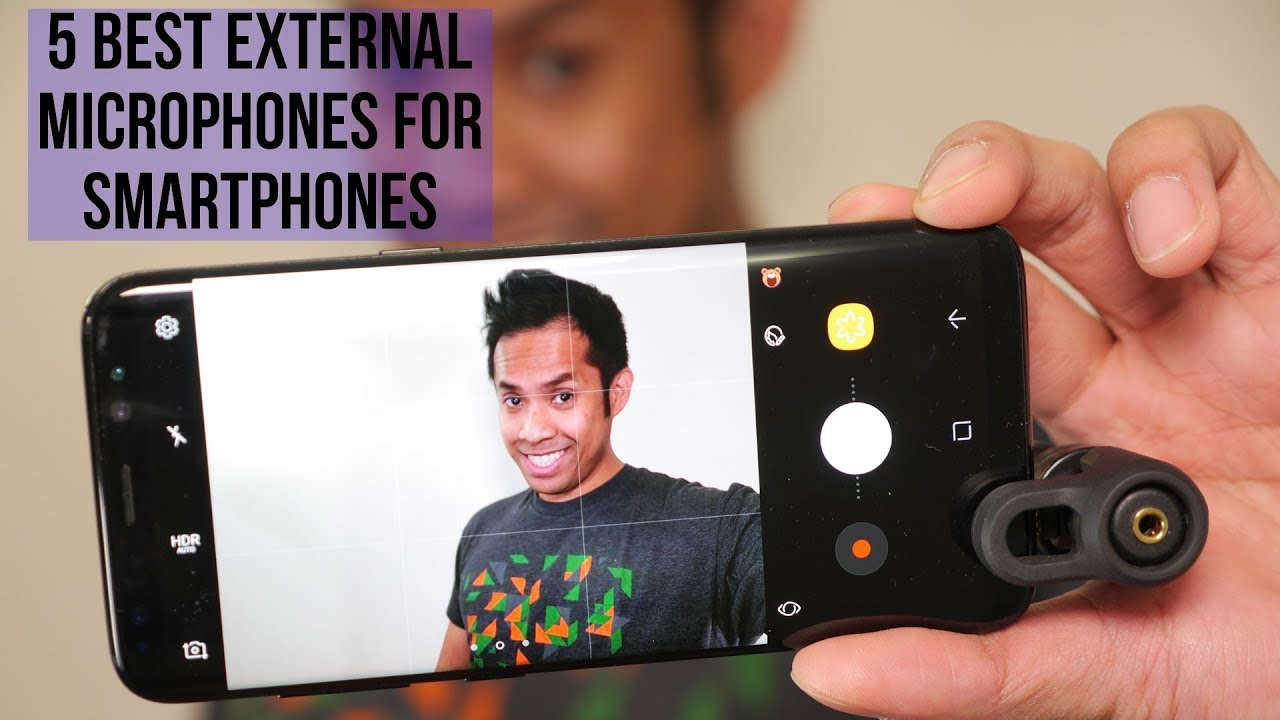 If there's one thing that's high on my priority list when it comes to choosing a smartphone, the camera has to probably be somewhere in the top three. When it comes to convenience, there's nothing more reliable than the smartphone camera because it has proven itself time-after-time in being adaptable to almost any situation – so you never miss a moment! Not only is the convenience there, but the quality, modes, and features of the smartphone camera have been quantified to propel them over most basic point-and-shoot cameras.
From 4K video capture, to ridiculous slow-motion, there's no denying the swarm of features that our smartphone cameras can tap into. While video has continually improved and enhanced with each iteration, one area that's often left neglected has to be the audio recording quality with video – there's still a huge area of opportunity for it. As more people rely on their smartphones for their video recording needs, audio quality plays a crucial role in helping to tell a story.
And that's exactly what we're aiming to achieve here, by providing you with solutions that'll help you to get better audio quality from your recordings. In this piece, we're going to go into detail about 5 particular ones we think you should consider, which range from simple solutions, to others that provide a little bit more versatility to adapt to various situations. You never know, you might not ever again settle for the built-in microphones in your smartphone.
Purple Panda Lavalier Lapel Microphone Kit
We know what you're thinking, the name sound ludicrous when talking about microphones, but don't let that dissuade you from checking it out because the Purple Panda Lavalier Lapel Microphone Kit does wonders for its price. Mainly, it's the sub $20 price tag that's most apparent, providing users with a quick, yet inexpensive solution that'll improve your audio.
For starters, it's a lavalier microphone that connects via the headphone jack on your smartphone, requiring very little setup to get running. Best of all, too, it vastly improves your audio because like other lavalier microphones, it's fastened close to the subject – so there's none of that distant tone that you typically experience if you talk far away from the phone.
And lastly, it's accompanied with several accessories that complement the experience – like an extension cord when you need to be far from your smartphone when talking, a fuzzy windscreen protector that minimizes wind distortion, and a TRS (2 ring) adapter that allows it to work with DSLRs/mirrorless cameras. Frankly, this is the cheapest, arguably most effective way of improving your audio quality.
Rode smartLav+ Lavalier Microphone
While it's significantly costlier than the Purple Panda Lavalier Lapel Microphone Kit, if you want to up your audio quality with the help of a reputable name, then you have to look no further than the Rode smartLav+ Lavalier Microphone. At $60, it's indeed going to be more of an investment from you, but given the Rode branding, it's better in terms of build quality and performance.
For the price and all, it comes with just lavalier microphone, a mounting clip, and a pouch to store everything – and that's it! If you intend on using it on other things besides mobile devices, like a DSLR, you'll need to purchase a TRS (2 ring) adapter to make it work, which is something included with the Purple Panda package.
The biggest difference with this smartphone-oriented lavalier microphone is that voices have a higher volume, whereas with the Purple Panda microphone, the audio performance is underpowered – requiring post editing to boost the volume. In addition to that, the Rode smartLav+ just sounds cleaner with its quality, versus the subtle hiss we can sometimes hear in the background with the Purple Panda.
Rode VideoMic Me Directional Microphone
Lavalier microphones surely serve their purpose, but one thing about them is that they still need to be attached close to the audio source. That's where directional microphones come to play, as they offer the convenience of being untethered – while still capturing rich audio in the process.
We've checked out the Rode VideoMic Me for a while, which simply connects to the headphone jack on your mobile device. From there, you'll have more freedom of movement because you're not technically tethered by a cable. And best of all, the Rode VideoMic Me does a great job of isolating audio directed in front of it. Meaning, distractions outside of that narrow area are usually softened to the point that they're almost drowned out.
It comes with a furry windscreen that goes over the microphone, to offer better results when it's windy. Out of all the audio solutions we checked out, this is undeniably the most intuitive way of recording audio on the go, mainly because there are few hassles that come along with getting it set up. All that's needed is for you to connect it to the headphone jack on your mobile device and that's it!
BOYA Video Microphone with Handle Grip Tripod
Rode is known to be a major player in the audio space, but there's always a premium attached to its products. That's why for our next solution, we thought it'd be great to provide an alternative to the Rode VideoMic Me. Priced identically at $60, the BOYA Video Microphone with Handle Grip Tripod seems to offer a lot of goodies.
Similar to the more-is-better approach we saw with the Purple Panda Lavalier, the BOYA Video Microphone includes a slew of accessories that complement the experience. In this case, not only do you get the cardioid microphone that attaches via the headphone jack on your mobile device, but it even comes packaged with a useful fuzzy windscreen cover, smartphone holder, and a compact tripod that doubles as a grip.
Who knows how its quality compares to the Rode VideoMic Me, however, the sheer number of extra goodies, combined with the fact it's price no different from Rode's offering, does make it a compelling offer. At the very least, we'd expect somewhat better results than just relying on the built-in microphones on our mobile devices.
The Rode VideoMic Me is a great directional microphone, but much like all other directional microphones, its reach is limited. Go too far away from the camera, the audio recording can still sound extremely distant – and that's despite all the amplification that these kinds of microphones can deliver. That's where this next solution comes into play, as the Samson Go Mic Mobile by far offers the most reach out of the bunch.
Quite simply, the Samson Go Mic Mobile is a wireless audio solution for your mobile device. The particular one we've been checking out is the kit that includes the handheld microphone with a built-in transmitter and the receiver that ingeniously cradles your mobile device. This combination allows users the ability to move freely without compromising the audio recording quality, just because it has a reach of up 100 feet.
Obviously, this isn't a solution for everybody, mainly due to the fact it's the most expensive on our list. That alone might sway users to look for alternative solutions, but if you're looking to get the most flexibility, this is the best route to pursue. It's nice being able to be near or far from the camera, without having to constantly adjust. They're really effective for those situations when you're far away. Right now, you can either pick up the kit with the handheld microphone transmitter or one with a lavalier system.
Better audio is achievable on any budget
As we've pointed out, there are several ways for you to improve the audio quality with your videos. In today's landscape where the smartphone is increasingly becoming the vlogger's choice for quick and simple content sharing, these tips can elevate a video's overall quality. You can have the best-looking shots and angles using your smartphone's camera, but if the audio turns out bad, it can be a deal-breaker.
For us, though, we'd probably recommend picking up a lavalier microphone, seeing that they don't cost a whole lot of money, but can still deliver top-notch audio. To an extent, too, they can pick up audio from other people in close proximity, so you don't technically need to constantly take it on and off to attach it to the person who is talking. And finally, given their simplicity, it doesn't take a lot of preparation or setup – it's just a simple connection to the headphone jack and you're good to go!
Recommended Stories