4G price wars in Europe to keep carriers' profits thin
5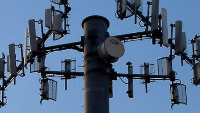 A published report on Monday talks about the 4G revolution in Europe, the Middle East and Africa, as carriers are beginning to spend more money on 4G service in those areas. An interesting chart posted by the Wall Street Journal estimates that spending on 4G hardware in the EMEA area will catch up with such spending in North America by 2017. But that is on the spending end of things. The main question is whether these EMEA based mobile operators will be able to turn a profit selling 4G data plans to their customers.
Three UK operators now offer 4G service and number four is on the way. In Spain, 3000 new 4G transmitters are expected to be rolled out next Spring by Telefonica while the French government says that the number of cell towers authorized for 4G use jumped by 21% in September alone. For all of 2013, the carriers in the Europe, Middle East and Africa will spend $1.6 billion on 4G equipment, up from the $599 million they spent in 2011. By 2015, the figure will reach $2 billion. In North America, spending on 4G hardware will peak this year at $2.2 billion and drop back below $2 billion by 2016.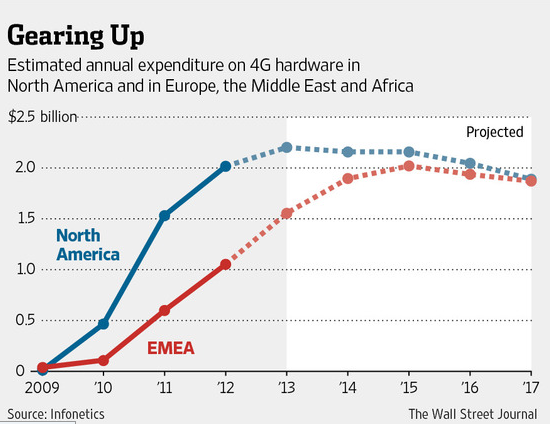 By 2017, the Europe, Middle East and Africa region should be spending as much on 4G hardware as North America
The 4G rollout comes at a perfect time for European carriers who have seen revenue drop 12% from 2008 to 2012 due to price wars. Last year, these companies brought in $215.8 billion and that figure should drop 3.8% in 2013. But even the arrival of 4G might not turn around the fortunes of these operators. In some European countries, the premium paid by subscribers for the faster speed is a small tidbit over 3G rates. In France, where the carriers hope to charge a premium for 4G service, the operators are offering low priced introductory deals, free movie services and other data rich freebies in order to get people away from the competition to sign up. Frank Cadoret, the head of Vivendi SA's French based operator SFR, says that people there don't know the difference between 3G and 4G, "
We have to show them that they need it
," he says.
If the carriers aren't making any money, at least we know that the equipment makers are. China's Huawei and Sweden's Ericsson have received 40% and 34% respectively of the global 4G network business. The Europeans have been slow to rollout 4G mostly because they paid the price for being too early to offer 3G and it took years for the operators to recoup their investments. But it is a brand new day. Smartphones are everywhere and data speed is an important metric. Once the Europe, Middle East and African region sees how fast data runs on 4G, demand for 4G should increase, allowing the carriers to eventually expand profit margins.
source:
WSJ