4-incher from Apple to be called the iPhone 5se with A8, Live Photos, 8MP camera and NFC?
67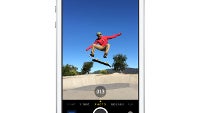 The biggest leak yet involving the rumored 4-inch iPhone has been passed along in a report published today. First things first.
The video that purportedly showed a 4-inch iPhone looking like a miniature iPhone 6s
is now said to be fake, according to today's report. The name of the device will be the Apple iPhone 5se as an "enhanced" version of the
Apple iPhone 5s
. The internal codename of the handset is N69.
The 4-inch iPhone 5se will be powered by the A8 chipset with the M8 motion co-processor included. This combination was employed by the
Apple iPhone 6
and
Apple iPhone 6 Plus
. There will be an 8MP rear-facing camera, and a 1.2MP snapper in front, That matches the camera combo found on the iPhone 6. The model will have the capability to show Live Photos. This is the feature that records video of the 1.5-seconds before the shutter is snapped on a picture, and the 1.5-seconds afterward. The result is a 3-second clip that makes it appear as though your photograph has come to life. The camera also supports larger panoramas and autofocus for recording video.
Considering that one of the goals of the 4-inch iPhone is to expand the use of Apple Pay to emerging countries, the iPhone 5se will feature NFC. A barometer will measure elevation for the Health app. Connectivity support matches the Apple iPhone 6s' Bluetooth 4.2, VoLTE and 802.11ac Wi-Fi. The color options for the iPhone 5se will be Silver, Space Gray, Silver, & Rose Gold. Those are the same colors available for the
Apple iPhone 6s
and
Apple iPhone 6s Plus
.
Even though Live Photos will be a feature on the iPhone 5se, the screen will not include the 3D Touch feature. In fact, the display will be the same as the one used on 2013's iPhone5s. The chamfered edges are replaced with curved glass like on the iPhone 6s. Apple is looking for a way to allow iOS updates to be made available for the iPhone 5se without using the new iPhone design.
Apple is rumored to be holding a press event in March during which this phone will be unveiled. The actual launch will take place in March, or in April.
A previously leaked roadmap for China Mobile
suggests that it will be an April release for the model. The Apple iPhone 5se will replace the iPhone 5s in Apple's lineup, priced at the same $449.99.
The Apple iPhone 5se is reportedly being rolled off of the assembly line as you read this. Hopefully, Apple will soon be sending out invitations to its March press event.
source:
9to5Mac