3M invests in Pixel Qi to push transflective displays
2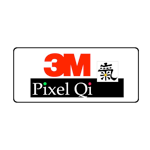 We have been hoping for this day for a while now without ever really knowing it. One of our favorite technologies that still hasn't quite hit the mainstream is in transflective displays. The idea is that by using a hybrid LCD/eInk display, users can get the best of both worlds with great color and fast refresh rates for video and games, but with the added benefits of enhanced readability in sunlight, less eye strain, and lower power consumption. Unfortunately, the tech still hasn't made it to many consumer devices, but maybe that will change because 3M has announced it has invested in
Pixel
Qi.
Pixel Qi has been one of the companies leading the transflective charge, but so far we've only seen round after
round of demo
, and the Pixel Qi screen in the Notion Ink Adam tablet. Although the Pixel Qi screen failed to impress on the Adam as many said the colors were washed out, the idea remains sticky. So, we're hoping that a new investment from 3M's New Ventures organization can help spur Pixel Qi's success. Pixel Qi founder and CEO Mary Lou Jepsen is also optimistic that this new investment will allow the company to push adoption.
Given how nice tablets are for reading, and how often we like to use our smartphones outside in the sunlight, a transflective display certainly has a market ready, there just aren't many products yet. Qualcomm is also working on the technology with its Mirasol displays, and Apple has also been reported to have patents pending (not working prototypes, just patents, because that's how innovation is done) for the technology.
We're hoping this investment does help push Pixel Qi, because a quality 10" transflective screen on a tablet is our version of the holy grail right now.